Whom would you enjoy this view with? Standing high on top of the castle tower, feeling the wind in your hair. You are taking in the gorgeous view of the mighty river Rhine and your thoughts wander back in time. Marksburg Castle has seen many people come and go since its construction in 1117.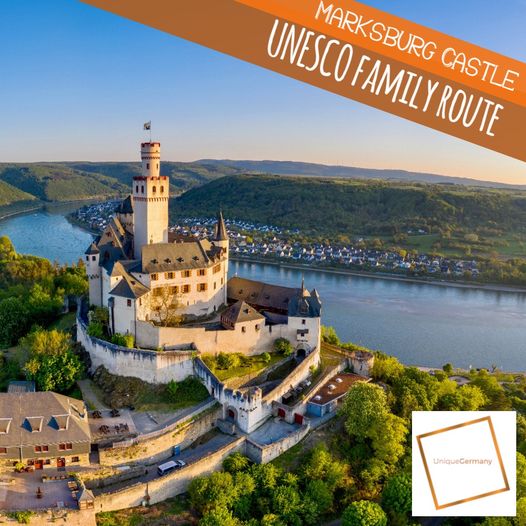 Among 40 hill castles that watch over the Middle Rhine Valley, @marksburg.de was the only one never to be destroyed. It is one of the most outstanding sites of the Rhine Gorge UNESCO world heritage and part of the UNESCO family route.
An old legend reveals how the castle got its name. Once upon it times, there was a beautiful young woman by the name of Elisabeth. She was the damsel of the castle and deeply in love with Siegbert. Everything seemed fine until Siegbert was called to war. They should never see each other again. As time went by and her sorrow passed, a stranger called Rochus called at Marksburg Castle. He claimed he had served with Siegbert and saw him die. He courted Elisabeth and eventually, they agreed to get married. In the night before the wedding, the priest had a vision. The holy Markus appeared before him that Rochus were the devil. At the wedding ceremony, the priest got a cruzifix from under his rope and pointed it at Rochus. An earthquake broke the earth below their feed and the exposed devil went down to hell. Grief-stricken and ashamed as she was, Elisabeth went to a monastery for the rest of her life. In honour to the holy Markus, the castle was named after him.
Fortunately, we live in the now, free to marvel at the wonders of the past. How much truth might there be in this legend?
.
.
Photo of Marksburg Castle and the river Rhine © (c) Rheintouristik Tal der Loreley, St. GoarMahlow Media, Winningen
.
.